Wednesday 12th June at 6.30 to 8.00pm
Conference Room 6 at the United Nations.
'Developing a unified voice for the implementation of disability rights for DPOs and persons with disabilities across the Commonwealth'
Commonwealth Disabled People Forum will host a side event in the COSP Session 12. The meeting will cover:
Current and future policy aims to be pursued at CHOGM and with Governments
Reports from activists of implementation progress
The vision and aims of the Commonwealth Disabled People's Forum
Chaired by disability activist, Rachel Kachaje
Sponsored by Commonwealth Secretariat
Supported by Disability Rights Fund, Action on Disability and Development
International and the International Disability Alliance, DFID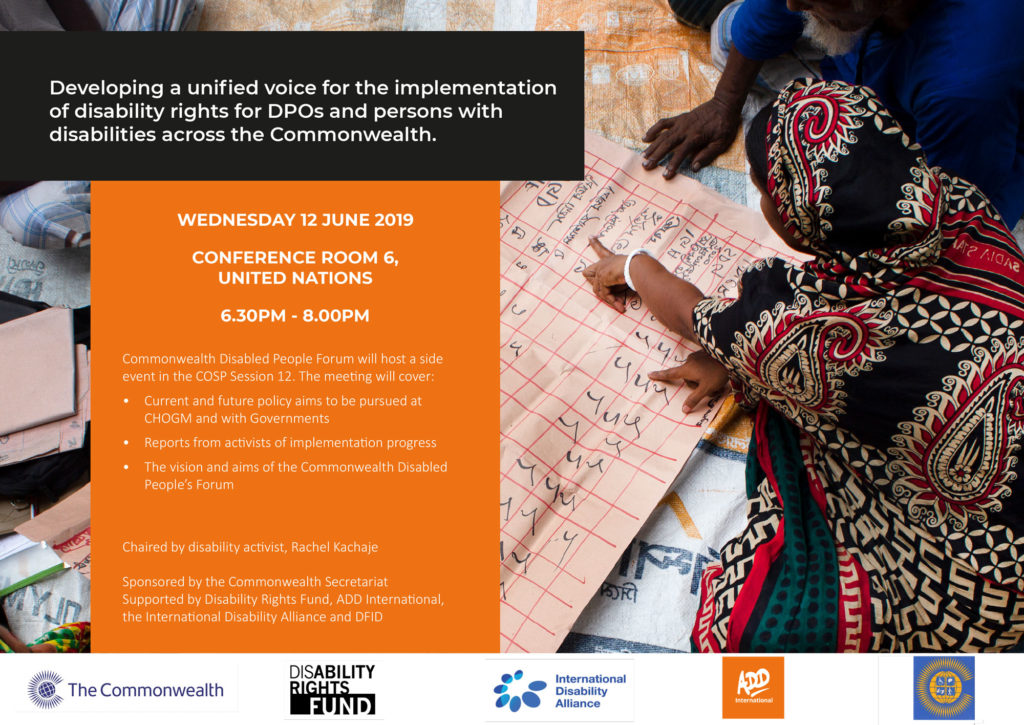 The Commonwealth promotes democracy and equality across its member countries with over 2.5 billion citizens. Over 450 million are persons with disabilities, mainly young people. The self-organisation of Commonwealth Disabled People's Organisations and their collaboration, capacity building with each other and advocacy play a crucial role in implementing the CRPD and the Sustainable Development Goals. The relaunching of the Commonwealth Disabled People's Forum with the support of DPOs in the majority of Commonwealth countries to give us a supportive and democratic structure to ensure people with disabilities across the Commonwealth are not left behind.
Speakers
Layne Robinson, Commonwealth Secretariat
M. Carla Qualtrough, Minister of Public Services and Procurement and Accessibility, Canada
Penny Innes, DFID
Vladamir Cuk, International Disability Alliance
Diana Samarasan, Disability Rights Fund
Richard Rieser, Interim Coordinator Commonwealth Disabled People's Forum
Jimmy Innes, ADD International (Action on Disability and Development)
Area speakers
Abia Akram, Pakistan; Nathalie Murphy, Dominica; Seta Macanawai, Pacific Region; Dickson Mveyange, Chavita, Tanzania; Michael Njenga, Users and Survivors of Psychiatry in Kenya; Kory Earle, People First Canada; Commonwealth Children and Youth Disability Network
International sign interpreter and palantypist, French/English and streaming.