Origins
CDPF had its beginnings in Kampala in the run up to CHOGM 2007 to provide an organised voice for Disabled Peoples Organisations across the Commonwealth. In March 2008 at a meeting in London of delegates from 19 countries, CDPF was formally set up, a constitution was adopted and Executive Committee was elected. An office was set up in India and the CDPF was registered there. In June 2009, a 4-day meeting was held in Kampala on UN CRPD and to develop future plans. In 2009 and 2010 respectively, the Chair and Vice Chair died, which led to a hiatus. CDPF also in membership in GPDD and participation in member meetings in Germany in 2009 (James Mwanda) and Argentina 2011 (Steven Estey)
In September 2011 and January 2012 a reconstituted Executive was formed and met. As a result, a meeting of 35 country delegates was held at the DPI World Assembly in Durban and it was agreed a meeting should be held to both build the CDPF and give it direction in New York in September 2012 to coincide with the UN COSP. In January 2012, CDPF took part in the Secretariat HRU Roundtable and it was agreed we would collaborate in holding a joint meeting at the UN COSP. CDPF is a registered voluntary organisation in India and A Registered Company by guarantee at Companies House London No. 7928235. The four Officers – Chair, Vice Chair, Treasurer and Secretary are the Directors of this Company
We are currently setting up an International Bank Account in London and constructing a website. The current Executive Committee are in constant touch electronically and have met in September and January 2012 face to face. We are currently carrying out a recruitment drive among national DPO's and DPOs across the Commonwealth. The Executive are elected by Member organisations.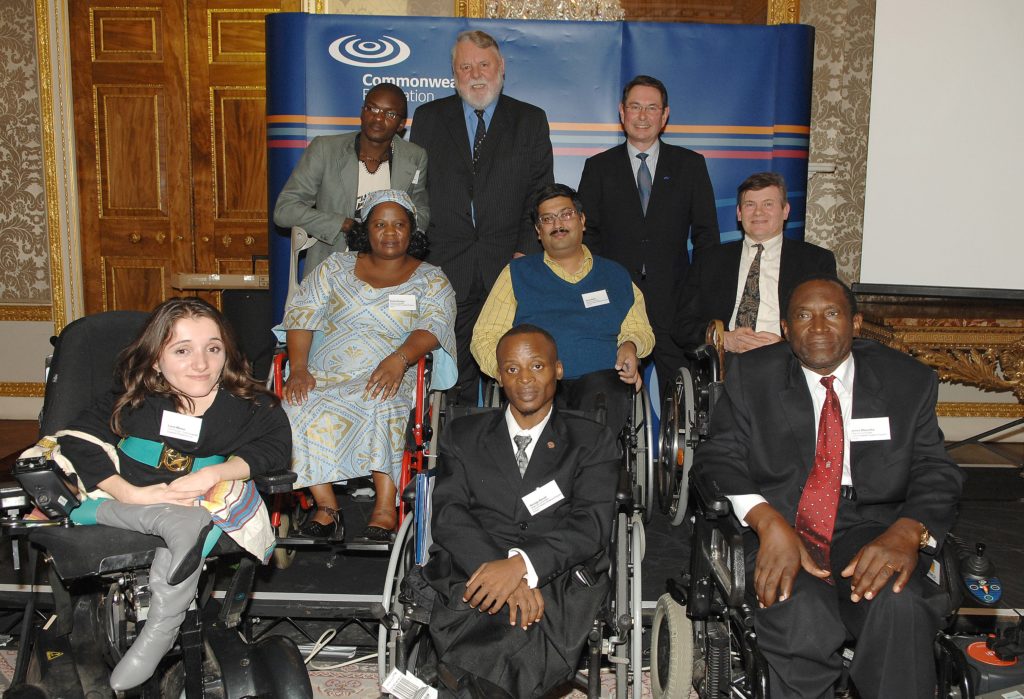 Executive Committee 2012
Rachel Kachaje, Malawi, Acting Chairperson
Steven Estey, Canada, Acting Vice Chairperson
Leslie Emanuel, Antigua and Barbuda, Acting Secretary
Richard Rieser, England, Treasurer
Laura Kanushu, Kenya, Youth Rep
George Kasera , Kenya, Youth Rep
Javed Abidi, India, Acting Member
Regional Representatives
Setareki Macanawai, Fiji, Pacific
Damien Griffiths, Australia, Aboriginal Rep – Inactive
Thomas Ongolo, Kenya, South Africa
Gulam Nizamnabi, Pakistan
Many people with disabilities do not have equal access to health care, education, and employment opportunities, do not receive the disability-related services that they require, and experience exclusion from everyday life activities. Following the entry into force of the United Nations Convention on the Rights of Persons with Disabilities (CRPD), disability is increasingly understood as a human rights issue. Disability is also an important development issue with an increasing body of evidence showing that persons with disabilities experience worse socioeconomic outcomes and poverty than persons without disabilities. Without including and implementing the disability rights perspective the Millennium Development Goals will never be achieved. Disabled People's Organisations and their capacity to campaign, advise and implement these rights are the key to progress.
The Commonwealth is lagging behind the world on ratification of the UN CRPD with only 28 countries out of 54 having ratified[52%], compared to 109 out of 193[57%] across the world. When ratified there are major issues about implementation. The paradigm shift at the heart of the UN CRPD from a traditional and medical view of disability to a social/human rights approach needs firmly imbedding across all Commonwealth countries. Significant barriers are the lack of capacity and sharing of capability between DPOs in different Commonwealth countries. Partnerships need building and DPO capacity needs building so they can play a leading role in implementing the UN CRPD with donor organisations, their governments and NGOs.
Summary
This article published in Issue 4 2021 of The Parliamentarian provides a brief overview of the CDPF's history and development.
Seminar in New York 10th September 2012
To make, Nothing About Us Without Us become a reality for disabled people right across the Commonwealth is our aim. To this end we are planning a seminar of CDPF members in New York on 10th September 2012 in the week of the UN Conference of State Partiers and are busy raising funding for this. The seminar and interventions around the Conference of State Parties will give CDPF members a much higher profile to get support with capacity building projects, cement our network and set its objectives and enable us to develop a proper democratic structure to build upon to take forward the work of CDPF. It would be good if CFNHRI could send a speaker to this seminar.
We are currently involved in a recruitment drive of DPOs Across the Commonwealth and in April will be applying to become a Commonwealth Association.
Other current Projects include i) We are going to be part of a meeting for High Commissioners in London on 3rd May( 4th Anniversary of UNCRP coming into being) to be held at Marlborough House. Rachel Kachaje our Chair will be presenting on the importance of the UNCRPD in Commonwealth Countries Development and Human Rights work and Richard Rieser our Treasurer will be speaking about the impact of the UNCRPD and a joint project between the Pacific Disability Forum and the United Kingdom Disabled People's Council on Capacity building of DPO leaders in the South Pacific completed in 2011. We have a DVD of this South Pacific capacity building which includes the situation analysis, weeks training course materials and an evaluation which we are happy to share at costs.
ii) We are in discussions with Sue Wardle of the Queen's Diamond Jubilee Trust to jointly run with the Disability Rights Fund a Commonwealth Initiative to fund grass roots organisations –from disability to capability-to fund and support enabling and skills building of disabled individuals in local organisations to develop their life chances and livelihoods. This would be one of 10 strands from the five year Jubilee Trust.
iii) We are seeking support to run 6 regional capacity building workshops for DPO leaders (around 30 with a gender balance and 15 young leaders in each region). The aim is to develop the capacity and skills and strategies for implementing the UNCRPD and engage with Governments, NHRI and Civil Society. Close liaison and collaboration with NHRI would be mutually beneficial in this area.
iv) In January 2012, four of our Executive took part in the Commonwealth Human Rights Unit Roundtable on Inclusive Education and Sustainable Employment and are feeding in further information and case studies for the final report.
v) Our Treasurer has just redrafted Implementing Inclusive Education : A Commonwealth Handbook for Implementing Article 24 of the UNCRPD.(R.Rieser 2012) This was published on March 13th 2012 and is a much enhanced and enlarged second edition of the earlier handbook produced in 2008 with many more examples at international, national regional and local level. We are hoping to run some follow up training specifically around Article 24.
CRPD Perspective on Disabled Peoples Rights and the Implementation of the UNCRPD.
During the 1990s, disability was introduced and analysed as a human rights issue by the UN Committee on Economic, Social and Cultural Rights. The result was published in 1994, in the Committee's General Comment No. 5. The final breakthrough came when the UN Commission on Human Rights, actively supported by the then UN High Commissioner for Human Rights, Mary Robinson, identified and recognised disability as a human rights concern in a series of resolutions adopted in 1998, 2000 and 2002.
As a logical consequence of this development, in 2001 the UN General Assembly accepted a proposal by the Government of Mexico for the elaboration of a UN Convention on the Rights of Persons with Disabilities.
The adoption of the Convention followed a unique and rapid process through the meetings of an ad hoc committee charged with developing it.
The committee held eight meetings over a five-year period. This was faster than any previous convention. 'Nothing about us without us' became the watchword of the convention-making process. This is the slogan of Disabled Peoples' International. CDPF has a strong working relationship with DPI and support their principles. Many disabled people were involved in the deliberations, both as delegates from their state governments and from disabled people's organisations (DPOs). They were involved in the making of the Convention in a number of ways:
State delegations were encouraged to include disabled people in their national delegations – this led to roughly one-quarter of state delegates being disabled people by the time of the last meeting of the Ad Hoc Committee.
DPOs and non-governmental organisations (NGOs) were able to register their delegates to the Ad Hoc Committee, and they could observe informal sessions and speak in formal sessions;
The UN made available 25 bursaries for disabled people from countries of the South to take part in the convention-making process;
The eight international disabled people's organisations which have permanent consultative status and make up the International Disability Alliance (IDA) were expanded to form the International Disability Caucus (IDC). The IDC comprises nearly 100 disability organisations and had a significant impact on the shape and wording of the Convention. The Chair, Don MacKay, took comments from the IDC first whenever the floor was opened to civil society organisations. The IDC's daily bulletins imparted disabled people's views and a substantial portion of the Convention reflected this thinking.
Between meetings of the Ad Hoc Committee many DPOs carried out consultations with disabled people in their countries to ensure that their views were incorporated into the Convention. Overall, 116 countries sent delegations to the Ad Hoc Committee and more than 800 NGOs and DPOs were registered. All states parties have a duty under the Convention to continue involving disabled people and their representative organisations in how they will implement and monitor it (Article 33).
The Paradigm shift
Essential to the UNCRPD and running throughout it is the need to shift thinking on disability from an individual/medical/charity model to a human rights/social model approach. This is poorly understood by Government, The Media and decision makers in business and in the state.
As Article 8 makes clear this transformation is essential and people with disabilities have a pivotal role to play. Disability Equality training delivered by people with disabilities who understand this paradigm shift and can generalise from their own impairment issues to the disabling factors that affect all people with disabilities is essential.
Article 33
CDPF believe the independence of DPOs should be present in any national structures for implementing the UNCRPD and this is best preserved in a troika or three part collaborative structure.
a) There should be 1 clear focal point in Government that leads and collaborates with all government departments.
b) There should be an independent body sufficiently at arms length from government that it accords with the Paris principles and is able to monitor, advise, investigate and litigate against the Government where necessary.
c) Disabled People Organisations, where the majority of its decision makers or management committee are disabled people themselves, should take the lead in representing the views of disabled people and their families. These need independence from government and if they are involved in providing services on behalf of the government this can often be difficult.
The involvement of people with disabilities and their representative organisations including children runs throughout the UNCRPD. To achieve this to ensure cross impairment coalitions needs a great deal of empowerment and capacity building. This is essential so that it is not 'business as usual', but that new voices are part of the implementation process.
Article 32
How much the UNCRPD is reflected in aid and development is at the end of the day a political decision. CDPF is for maximum collaboration and support to achieve the objectives of the UNCRPD.
The following points from a EU Document are very useful here.
States Parties should perform a screening exercise to assess the inclusivity of their development aid policies and programmes. To this purpose, screening exercises should, inter alia, include an assessment of whether:
any laws, policies or practices exclude persons with disabilities from international co-operation programmes, either as beneficiaries or as implementers.
domestic disability laws apply extraterritorially to development assistance;
existing disability non-discrimination laws apply to the recruitment and training of people with disabilities for international development or assistance assignments;
international co-operation programmes are directed at inclusion and autonomy and applied without discrimination and in relation to all persons with disabilities, including women and children with disabilities; and
persons with disabilities and their representative organisation are involved in development planning, implementation and evaluation.
Following the results of screening exercises, all the aforementioned issues should be mainstreamed to all previously established, or upcoming, international co-operation programmes.
States Parties as donor (or beneficiary) countries should take measures to guarantee that international co-operation mainstreams the general principles of the UN CRPD, and is inclusive of, and accessible to, persons with disabilities.
States Parties should, in their international co-operation programmes and/projects, ensure participation by persons with disabilities in the design, development, and evaluation of the programme and project.
States Parties should ensure that their international co-operation in programmes and projects mainstream actions towards persons with disabilities.
Documents from the 2008 Inaugural Meeting
Programme
Steering Group Statement
Concept paper from CDPF Africa Region
Developing a Unified Voice for Implementation of Disability Rights for DPOs and Persons with Disabilities Across the 53 Commonwealth Countries (COSP12 Side Event)
12 Jun 2019 – The Commonwealth promotes democracy and equality across it's 53 member countries with over 2.4 billion inhabitants. Over 450 million are persons with disabilities, mainly young people. The Commonwealth Heads of Government meet every 2 years to determine direction and policy with this are linked various civil society fora. In 2018 disability issues were acknowledged but it was recognised much more needed to be done. The Self organisation of Commonwealth Disabled People's Organisations, their capacity building , advocacy and collaboration will play a crucial role in implementing the UNCRPD and Sustainable Development Goals. This week here in we will be relaunching the Commonwealth Disabled People's Forum to carry forward these goals. Delegates from over DPOs in 30 countries are attending. The meeting will discuss the desire for, goals and role of the CPDF. Take reports from disability activists from across the Commonwealth and discuss how to influence in CHOGM 2020 in Rwanda, 2022 Fiji.